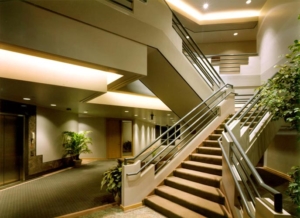 From Federal GSA and military facilities to state, county, and city agencies, the need for experienced professionals who understand all of the commercial finishes in public facilities is ongoing. Unlike the private sector, public facilities require far greater consideration in materials used, coordination of security, and public access that only experience can anticipate, including continuity in finishes found at Historical Preservation sites.
At West Coast Flooring, we have decades of experience specifying and installing flooring in public facilities. Our teams of skilled estimators and craftsmen are prepared for all considerations at your facility. We have strong relationships with America's leading flooring manufacturers, both on and off the GSA schedule and/or state contract, and are factory-authorized GSA resellers.
Since the signing of Executive Order 13101 (EO 13101) in 1998, we have promoted materials capable of exceeding the lifecycle objectives of even the most discriminating facility directors, while minimizing the raw materials required. We have always striven to provide products that are long-lasting and yet leave the smallest footprint possible.
We welcome all opportunities to assist you with comprehensive environmental product recommendations, including all qualified LEED certification information and reclamation programs available from the manufacturers under consideration.
Key Government Customers
City of Bellevue
City of Seattle
Department of Homeland Security
Federal Reserve Bank
Fort Lewis
King County
King County Library System
Madigan Army Medical Center
Seattle Parks Department
Seattle Public Utilities
NOAA
U.S. Coast Guard