With us, green is not about selling. It's about stewardship.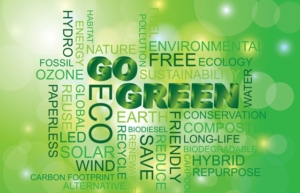 Since Executive Order 13101 in 1998, the commercial flooring industry has made huge strides in conscientious manufacturing processes. Previously, nearly 100 percent of materials removed from project sites were deposited in local landfills. Today, through investments in new technologies and the establishment of reclamation centers, an increasing percentage of post-consumer (PC) materials are returned to manufacturers for down-cycle regeneration, full close-loop reprocessing, and even upcycle configurations.
West Coast Flooring is committed to using sustainable technologies and products, and to promoting manufacturers who share our green values. As soon as viable new advancements are brought to market, we make every effort to share this knowledge with our clients.
The landscape of green thinking in commercial flooring is constantly improving and the education toward more sustainable products and practices is ongoing. We are committed to improving our community and our planet by promoting responsible specifying and purchasing at every opportunity.
It is our hope that the recommendations made at West Coast Flooring prove over time to have been environmentally responsible, producing the greatest lifecycle results with the smallest footprint possible. At the same time, we strive to use materials that may someday be recovered and reused as a renewable resource by future generations.